FEATURES, EDITORIALS & PUBLICATIONS
Style shoots and magazine features are always fun! Here's a glimpse at the magazines and blogs that have published my work. Head on over to to the Real Weddings section to see which of my fabulous couples have been featured in print and online!
ELEGANT WEDDING | W/S 2015
CAROUSEL COUTURE BRIDAL SHOWER STYLED SHOOT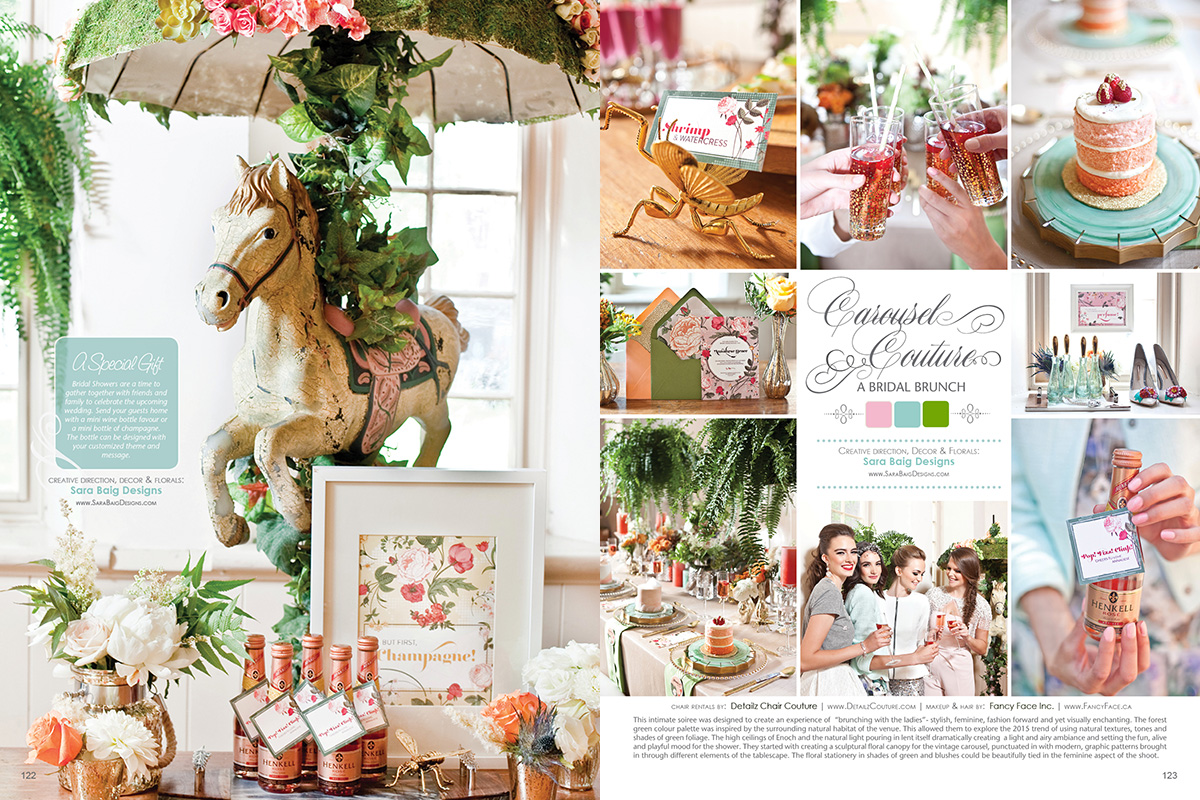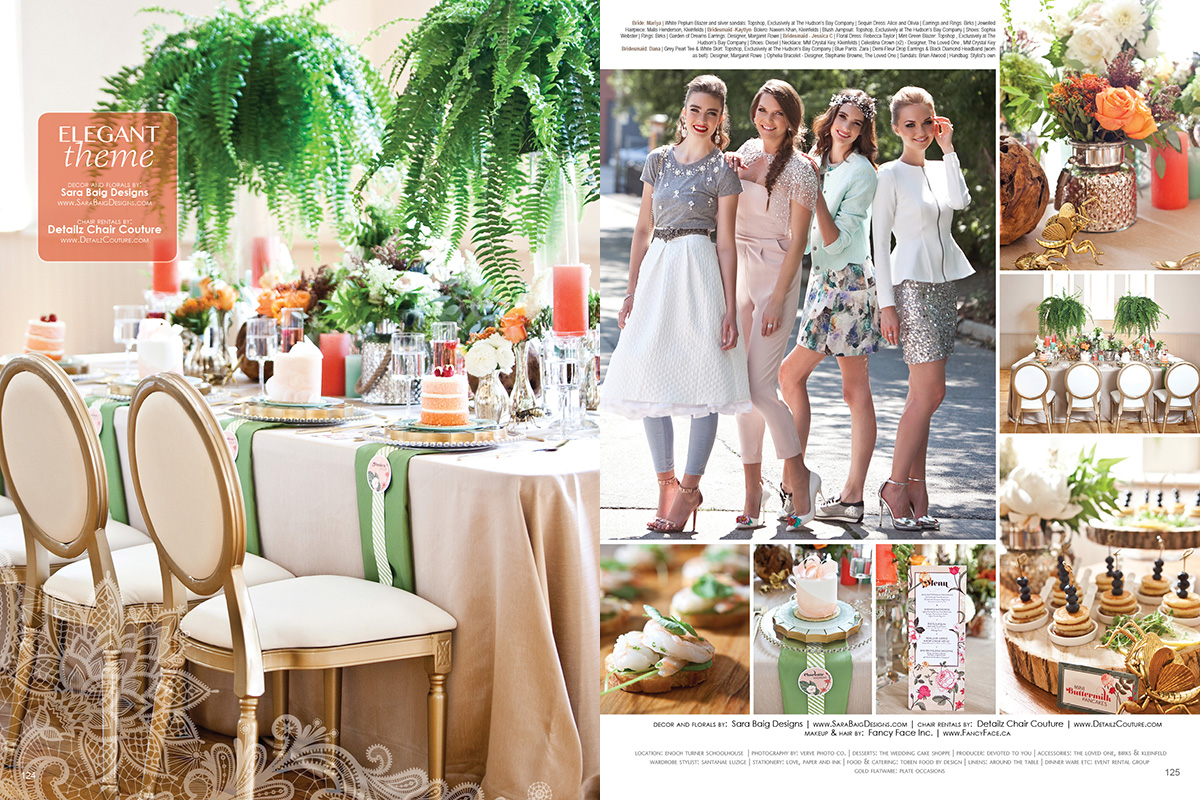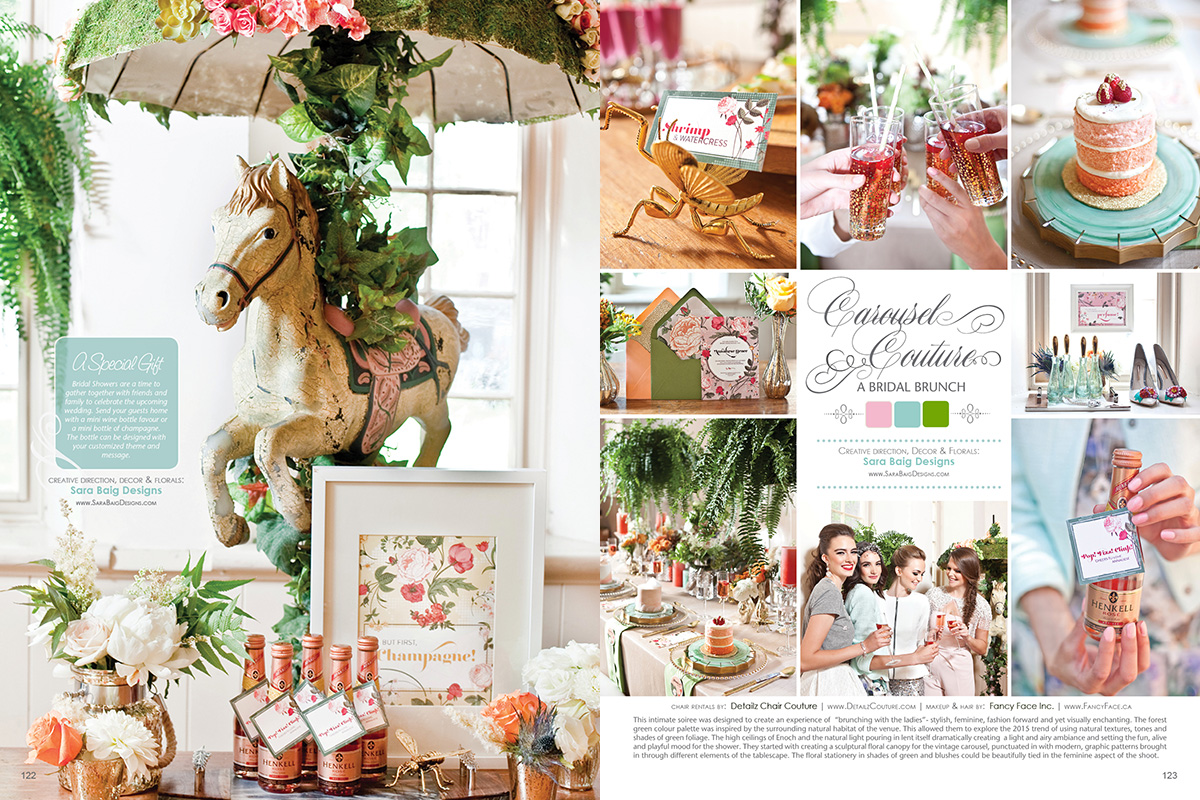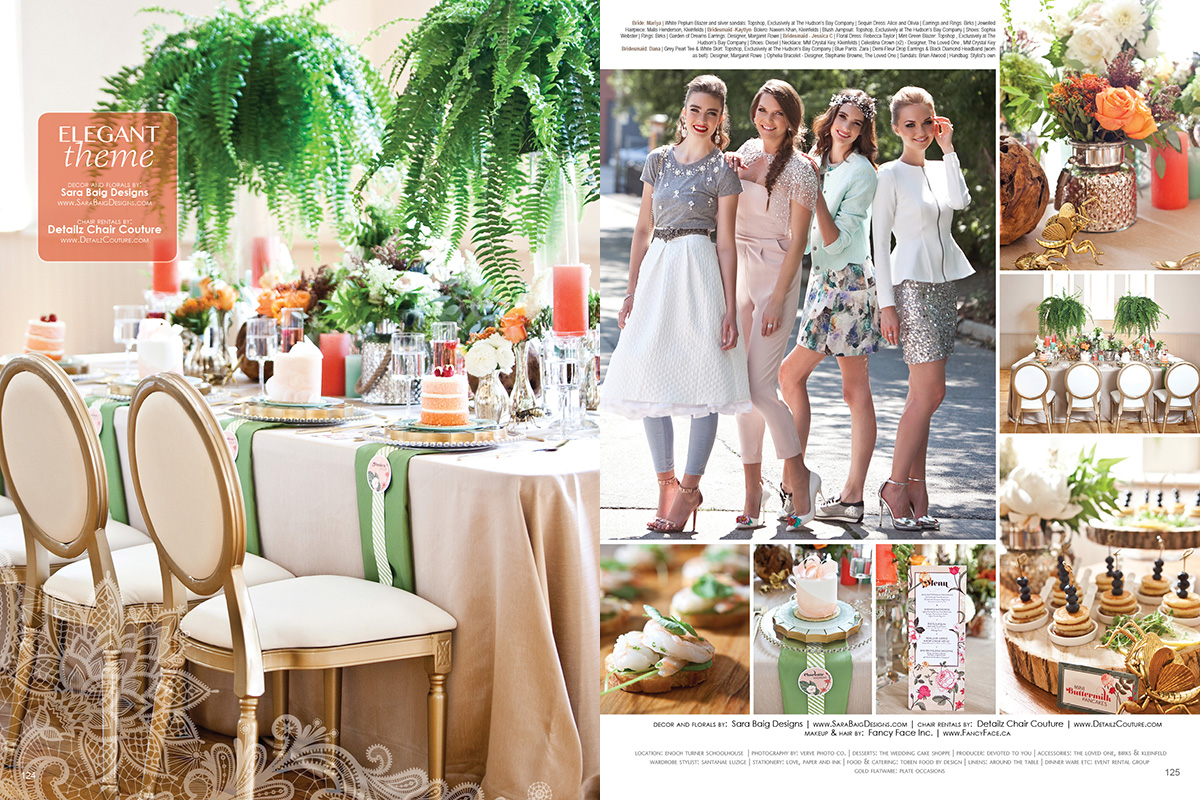 JODI BRIDAL MAGAZINE ULTIMATE WEDDING GUIDE | S/S 2014
I was thrilled to be asked to contribute an article to Jodi Bridal Magazine's Ultimate Wedding Guide on bespoke wedding invitations and what sets them apart from big box retailers and DIY projects. This issue is available at all major bookstores around Toronto.

IN COLLABORATION WITH:
Photography: Verve Photo Co. | Styling: Sara Baig Designs
LAVISH DULHAN | FALL/WINTER 2013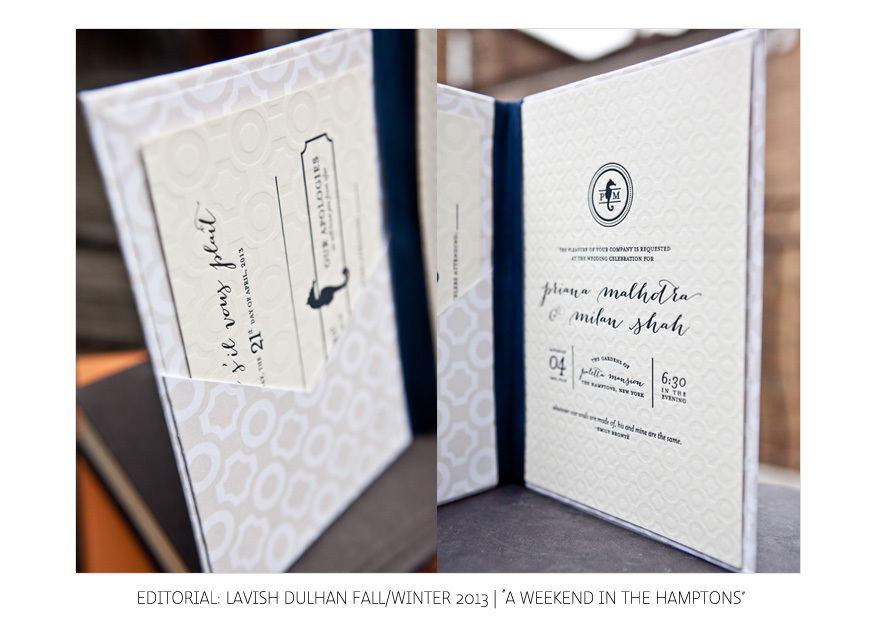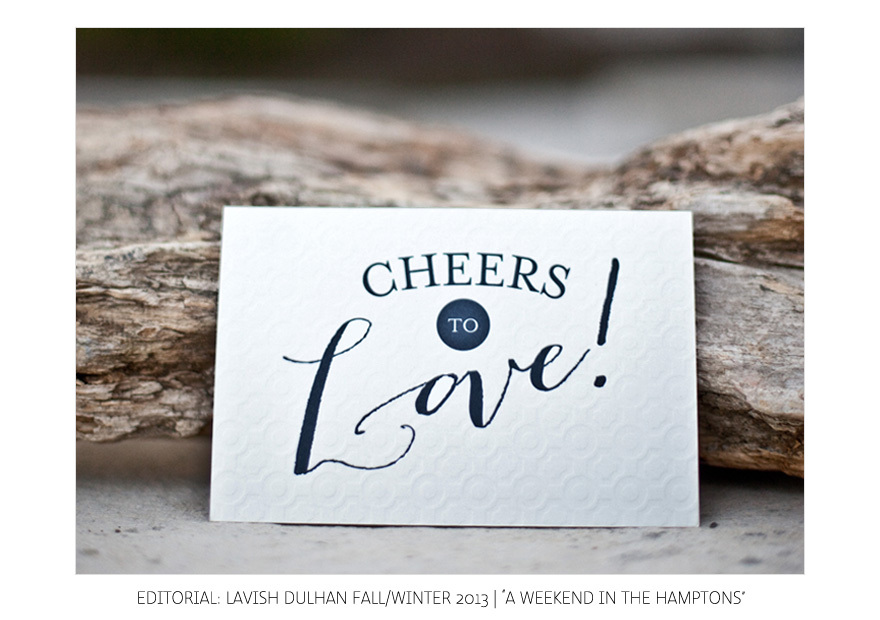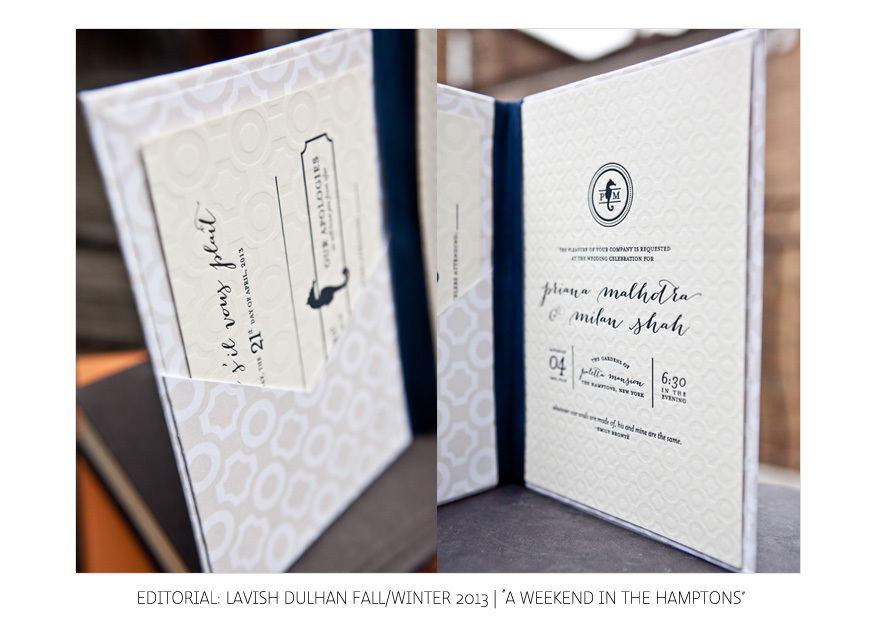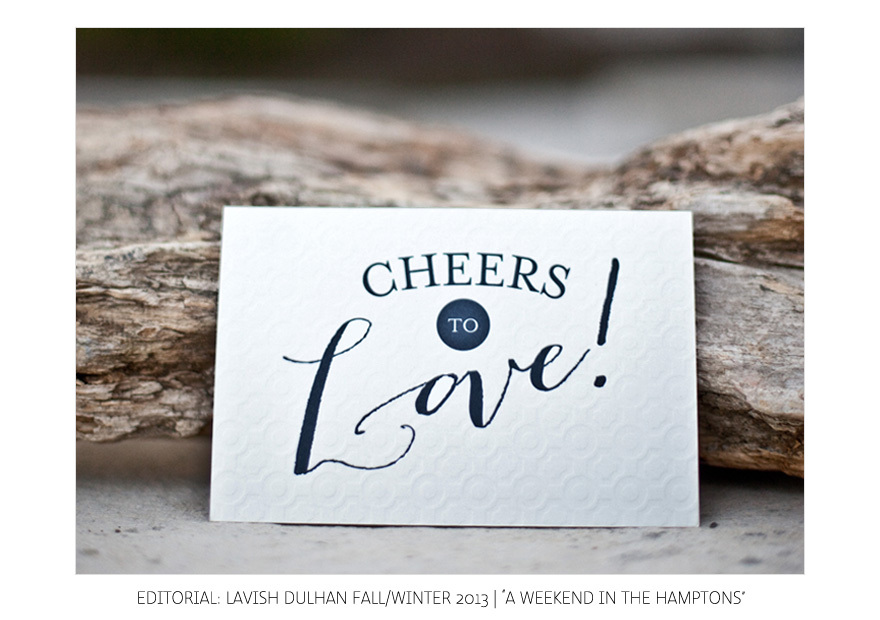 It's not often a designer gets to indulge their sensibilities completely, but then, that is is why editorials and inspiration shoots are such fun. This time around, I did everything I would have wanted for myself if I was a Hampton' bride. This suite was letterpressed- once blind, and then again with navy blue ink on top. The custom seahorse monogram reflected the casual nature of the wedding and was a subtle hint at the lakeside setting. The invitation and RSVP card were designed to slide into a custom hardcover pocket folder, wrapped in a patterned paper and finished with a gold foil monogram stamp plus a navy blue silk ribbon. Matching navy blue envelopes were also stamped with the gold foil monogram and lined in handmade silk paper in navy and gold. I also designed a printed fabric "Welcome to Our Happily Ever After" banner for the reception area, along with a custom designed table runner. Both featured the monogram and the same pattern found on the invitation suite. The table setting pieces were finished off with a menu wrap and matching place cards.

IN COLLABORATION WITH:
Concept: Arora Weddings & Event Planning | Photography: Verve Photo Co. | Design: Paras Events | Wardrobe: CTC West | Hair, Makeup & Model Styling: Amplified Soul Makeup & Hair Couture | Cakes & Desserts: Fine Cakes by Zehra | Location: Paletta Mansion
WEDDINGBELLS | SPRING/SUMMER 2013
I received an email from the lovely assistant editor at Weddingbells asking me to create a custom wedding sparkler holder for their Spring/Summer 2013 issue. I based the design off my Ready to Wed "Everything's Coming Up Roses" line, and changed the colour to burnt sienna, accented with ivory and chocolate brown to reflect the colour feature in the magazine. These were then laser cut into a lovely shape with appropriate slits for the gold sparklers to slide through.
SOUTH ASIAN BRIDE MAGAZINE | FEBRUARY 2013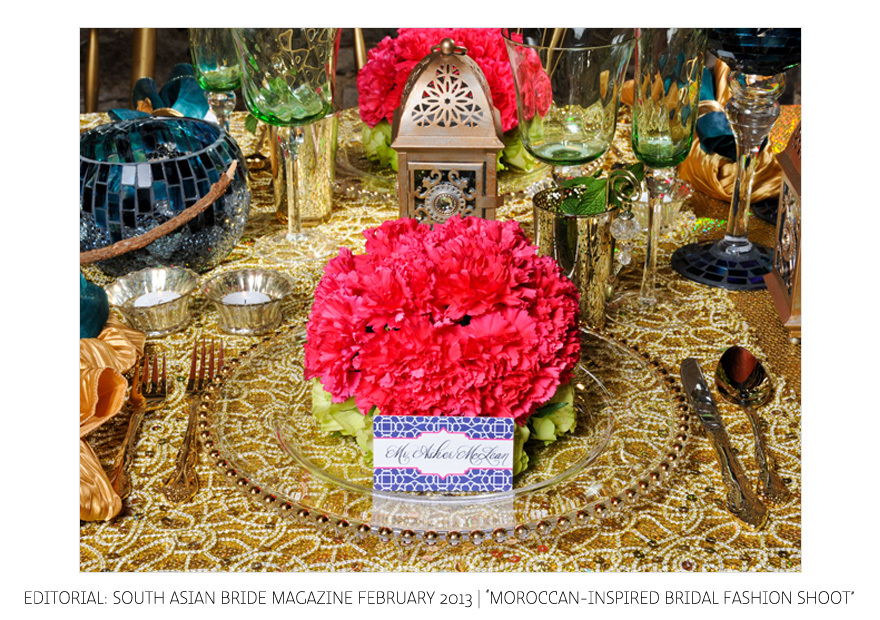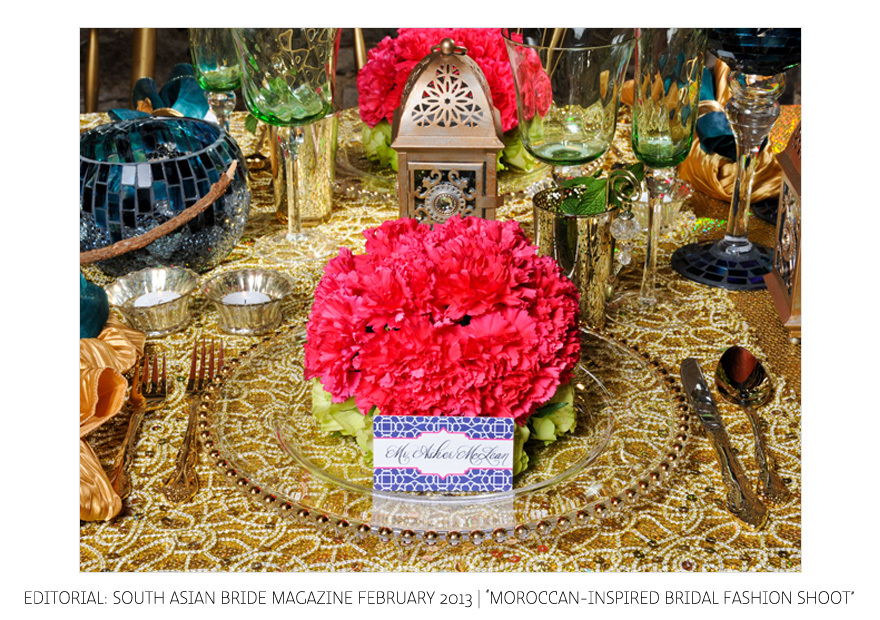 STYLE ME PRETTY | DECEMBER 2012
This gorgeous shoots ranks as one of my most favourite collaborations ever! The entire look is glamorous, upscale, sophisticated and oh-so-chic. The inspiration for this shoot came from an iconic Hermés scarf print. I decided to keep the stationery clean and minimalist using shades of grey and a rich espresso colour against lots of white. I love the way those minimal colours play off against all of the textures involved in the shoot - from the luxurious (faux!) fur to the architectural qualities of the pine cones to the silkiness of the pheasant feathers, not to mention the pops of fuchsia and red on the table. The clothing, jewellery and makeup were perfectly set up, and I love the play off the tradtional and ornate Indian lehenga against a modern crop top and a sleek beehive. Bellissimo!

Be sure to check out the full gallery of images over on Style Me Pretty.
IN COLLABORATION WITH:
Concept: Sara Baig Designs | Photography: Ovyian Photography | Hair, Makeup & Model Styling: Amplified Soul Makeup & Hair Couture | Wardrobe: CTC West | Desserts: Pretty Sweet Cakes | Videography: Naz Films
LAVISH DULHAN | SPRING/SUMMER 2012
GRACE ORMOND WEDDING STYLE | NEW ENGLAND
In a word, Ridaa & Hamaad's wedding was gorgeous. It was opulent and decadent with lots of rich colours and beautiful, luxurious details. Click here to see more at Grace Ormonde New England Wedding Style.
Photography: Amna Siddiqi | Venue: The Fairmont Copley Plaza, Boston